Activating the Flower of Love
Pick A Card
Get a free mini reading! A deepening spiral into the teachings of Activating the Flower of Love! Allow yourself to be guided by the universe, ask a question or simply let the cards guide you into the message of this now moment, and let the Divine Love Codes of Activating the Flower of Love guide you towards your true Self.
One Card Reading
Click the image below to recieve your message for this now moment.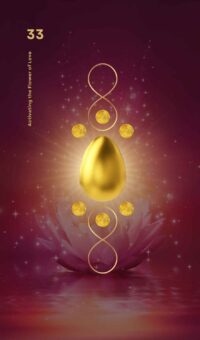 33 ♡ Inner Child
Awaken the magic of your inner child and unlock a world of wonder, joy, and excitement. Let go of inhibitions and give yourself permission to fully express, play, and explore. Embrace all aspects of yourself, even the deepest fears, with love and compassion. Connect with the energy of pure joy that comes from within, and allow yourself to experience the full spectrum of emotions. As you harmonize your shadows with love, you'll unlock your true potential and become empowered to create the life you desire. Say fully yes to life, knowing you are safe, loved, and fully supported. Let your inner child come out to play, and watch as the world around you transforms into a magical wonderland full of endless possibilities.
Deepen on page 146 of the paperback version of "Activating the Flower of Love: A Sacred Guide to Manifesting Your Deepest Desires and Highest Calling" by Kim van de Sande
Card Deck Copyright @ 2023 Kim van de Sande | Self Published | Text and Images by Kim van de Sande
get your copy of the Activating the flower of love Card Deck now
You can now order the full 46 card Activating the Flower of Love card deck via Gamecrafters. You have the option to choose between the standalone set of 46 cards or the complete set with a beautiful box to keep them safe (please note the box is to big, for 90 cards).
The guidance offered by the card(s) invites you to explore a particular topic in more depth within my best selling book Activating the Flower of Love. You can use the guidance of the card as a starting point and deepen your understanding of the teachings by exploring the related section in the book. This will help you gain a more comprehensive understanding of the concepts and apply them to your life in a more meaningful way.

The pages related to the Paperback version of "Activating the Flower of Love: A Sacred Guide to Manifesting Your Deepest Desires and Highest Calling"
AWAKEN YOUR FULL POTENTIAL
ABUNDANCE IN ALL AREAS OF YOUR LIFE
RAISING COLLECTIVE CONSCIOUSNESS
Check out these empowering offers
♡ Activating the Flower of Love online journey
Self-paced Sacred Journey
♡ Flower of Love Embodiment
3-month Sacred Group Journey
♡ Ambassador of Love
About the Author
Kim is a visionary on a mission to open the hearts and minds of millions to re-connect to Love, to awaken their Inner Wisdom and Divine Spark. As a Sacred Architect, Cosmic Channel, and Akashic Records Master, she utilizes her skills to amplify the divine potential within others at lightning speed, empowering them to navigate rapidly changing times, manifest their desires, and fulfill their true purpose fueled by Love.
Two-time international best-selling author and Founder of the Flower of Love mystery school lineage, she channels the teachings of Divine Love, anchoring higher vibrational codes to facilitate Earth's conscious evolution, guiding others on a transformative journey to unleash their boundless potential.
Kim's own experiences, including loss, burnout, and chronic illness, have shaped her into a fearless mentor. She has delved into the depths of her being, reclaiming lost fragments along the way. This wisdom, gained through embodied experiences, enables her to compassionately meet others in their shadows and recognize the transformative power within discomfort.
When not guiding and co-creating, Kim finds joy in cherishing moments with her husband and two girls, spending time with family and friends, scribing her next channeled books, immersing herself in nature, and embarking on journeys to spiritual sites worldwide. She is an ever-evolving student of life and these sacred codes of Love, continuously anchoring and embodying higher templates of consciousness to support Earth's (R)Evolution.
These endeavors align her with her purpose, inspiring others to embrace their limitless potential through the transformative power of Love.
Come join the next Flower of Love Sacred Circle
A once a month Flower of Love Sacred Circle guided by the teachings within the book, hosted by the Author Kim van de Sande